White Paper
Transforming the Physical Store for a New Shopping Landscape
In the past 18 months, retail has gone through one of the fastest and most demanding transformations in the past decade. As a result, the role of the physical store has and is changing profoundly. For example, retailers are embracing new functions that are key to define the quality of the shopping experience delivered to customers.
Despite the "online-shift" assumption, the physical store is actually gaining centrality in retail's operations. 76% of retailers agree that, following the pandemic, the store is becoming a more important asset in the customer shopping journey, expanding its role as an experiential and fulfilment hub.
This and many more facts can be found in the latest IDC White Paper: Transforming the Physical Store for a New Shopping Landscape. This White Paper, based on The Role of Technology in Store Operations Survey conducted by IDC for retail technology company Sensormatic Solutions, shows how the store is becoming more important and expanding its role in the customer journey and support of omnichannel operations.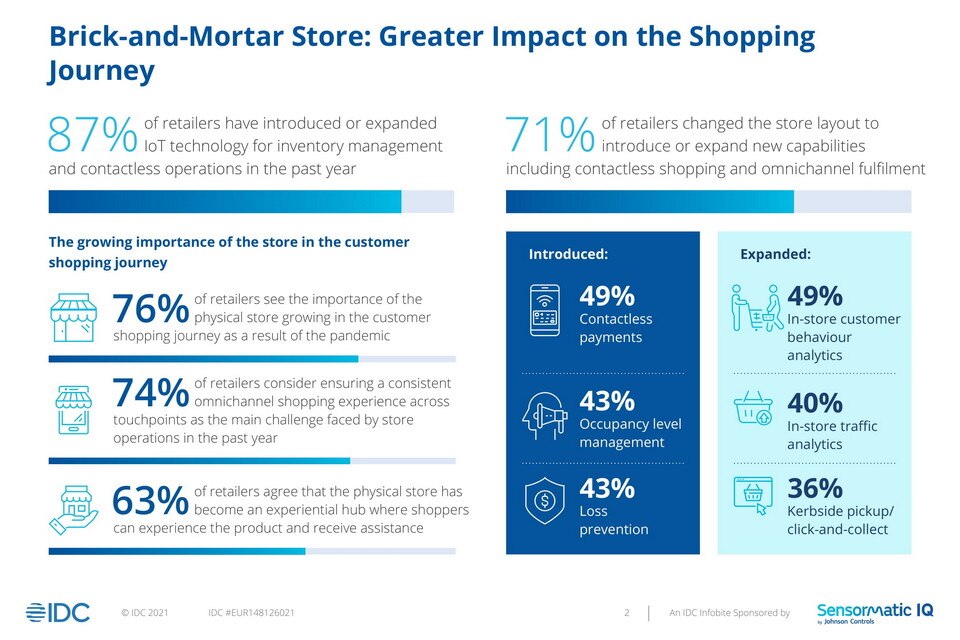 The Role of Technology in Store Operations Survey was conducted by IDC in June 2021 among 253 major retail companies in the top 5 European economies (France, Germany, Italy, Spain, and the UK). The survey targeted director- and C-level respondents from the fields of IT, technology, operations, innovations, digital, customer analytics, and omnichannel operations, plus profit protection and loss prevention, and customer experience and insight.
Find out what the major European retail industry experts are thinking about:
post-pandemic store transformation
expanding role of the store associates
key solutions and technologies needed to transform their store operations and deliver a consistent, unified shopping journey
Download your free White Paper now!