Article
What Impact will Cancelled Christmas Events Have on Retail in the United Kingdom?
October 30, 2020
By
Sarah
French
From holidays abroad to the Olympics and the UEFA European Football Championship, the coronavirus pandemic has caused a multitude of events to be cancelled throughout 2020. Unfortunately, this looks like cancellations will continue with Christmas markets, Santa's grottos, light switch-ons and other holiday extravaganzas across Europe as cases begin to creep up again. With these events usually drawing millions of visitors every year, what can we expect the impact to be on shopper footfall?
What Impact Do Markets Have in a Normal Year?
Every year, travel companies advertise mini-breaks across Europe for people to visit the famous Christmas markets, do some shopping, and explore the city. These markets provide huge economic benefits. According to a local UK government study published in 2018, Christmas markets generate a boost in visitors "at a time where some towns may see a natural downturn in trade to out-of-town shopping facilities." Almost all visitors surveyed said they made additional purchases elsewhere in the city centre, with the study also finding that the markets generate a boost in visitors for local shops and restaurants, as well as creating temporary jobs.
Focusing specifically on Birmingham's Christmas Market, which has attracted over 5.5 million visitors per year, several local restaurants and hotels in the city say the market provides great benefits. For example, Becky Frall, Acting Head of Visitor Attraction at West Midlands Growth Company, said, "Our latest research shows visitors come and spend at the market, then they go off and spend nearly double elsewhere in the city. And figures are on the increase." This is reflected in footfall figures – our 2019 data shows that on the weekend following the opening of the market (Thursday 7th November), retailers near the market saw a 0.44% and 9% increase (respectively) in year-over-year traffic. Generally, on that weekend these retailers performed better than those in the wider city, also outperforming national UK trends:
As coronavirus numbers continue to rise across Europe, however, numerous cities have cancelled their markets and events for this year. While outdoor spaces are usually more conducive to maintaining social distancing and occupancy levels, the cramped and busy nature of Christmas markets makes it almost impossible to do so. Therefore, some organisers have felt it is safer to either scale back events or defer them until 2021. This includes London's Winter Wonderland, Birmingham's Frankfurt Christmas Market, Cologne's Christmas Market, and several Sinterklaas celebrations in the Netherlands. This, in turn, will have animpact on a retail market that is already struggling in the wake of coronavirus restrictions.
Will It All Be Doom and Gloom?
With consumers already wary about returning to the shops, the lack of a big event in the town centre combined with worries over coronavirus may mean there is less impetus for consumers to make the trip to go shopping in brick-and-mortar stores. In fact, Natalie Berg, retail analyst at NBK Retail believes "it's going to be a very digital Christmas," with online retailers such as Amazon "scooping up" trade. She also adds consumers are more purposeful when they do go to the shops, with shoppers "definitely spending." Additionally, Dr Julian Tang, consultant virologist and honorary associate professor at the University of Leicester, says "shopping online for Christmas is safer but much less atmospheric and festive, so may not be so popular."
This is apparent from Sensormatic Solutions own analysis of UK shopping trends pre- and post-lockdown. We found that despite year-over-year traffic trends still being in the minus figures, consumers have clearly been keen to make up for lost time, with conversion, average transaction size (ATS) and sales per shopper (SPS) all seeing significant year-over-year uplifts.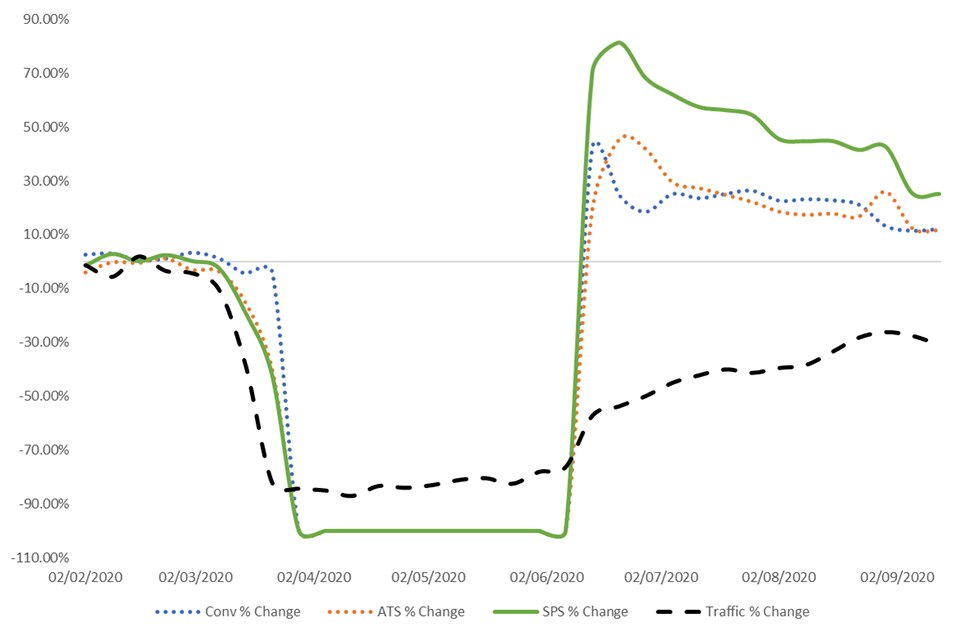 These trends were also evident in Sensormatic Solutions' survey of UK consumers. Fifty-two percent said that they still plan on shopping in-store, with 40% saying that the reason for doing so was to be able to browse for gift ideas. A further 27% said they like to be able to see products in-person before making a purchase. While fewer people are making trips to the shops, those who do go are shopping with intent and are spending more.
What Can Retailers Do to Make Up for The Lost Footfall?
Prepare for earlier shoppers
According to the UK Office for National Statistics, prior to COVID-19, online shopping accounted for just 20% of retail spending; it has since risen to 30%. With concerns over supply chains and retailers being limited to the amount of staff they can employ in warehouses, Simon Gregory, joint chief strategy officer at branding agency BBH London, argues that brands may start encouraging people to start their Christmas shopping as soon as possible. He says, "Christmas shoppers usually fall into two types: the planners and the last-minuters, and this year I'd expect a rise in the former, so we may see sales spread out more consistently across the season than previous years."
This has already been echoed by John Lewis, which launched its online Christmas shop on 24th August – the earliest it has ever done so – and its in-store shop on 25th September. This followed customer searches on its website for Christmas products being up 370% when compared to 2019. With consumers concerned about crowds the closer it gets to the festive season, other retailers may consider following suit and launching their Christmas collections earlier to capitalise on early shoppers.
The wish to start shopping earlier this year was reiterated in our consumer survey. We found that by the end of October, 46% will have started their Christmas shopping, with only 16% planning on leaving it until December. This is especially important when there may be fewer reasons for consumers to visit shopping centres later in the year if there are no markets or events to visit at the same time.
Maintain Store Safety and Best Practices
Aside from this, the most important things retailers can do now is ensure that they are offering a safe and secure shopping environment, where customers feel confident shopping. Two of the top reasons for people limiting their decision to shop in-store this Christmas were concerns over COVID-19, with 47% of survey respondents highlighting concerns over other shoppers not following social-distancing measures and worries over contracting the virus. If retailers can ensure that their stores are safe and clean– on top of offering a seamless shopping experience – they can boost conversion and encourage the shoppers they do have, to spend.
Product Availability is Key
Our consumer survey also found that the top reasons for shopping in-store this Christmas is browsing for gift ideas and being able to see products in person before buying (67% of respondents), with only 18% planning on shopping exclusively online. This highlights a clear need for products to be readily available and ensuring that stores have a good level of inventory; this is especially pertinent when more people are planning on starting their shopping earlier in the year.
While there may be fewer people visiting stores this year, those who do go are clearly shopping with purpose. Retailers should capitalise on being able to convert these customers and ensure they have enough staff available. According to our survey, 5% of respondents said that their top reason for shopping in store was to get advice from sales associates, whilst 21% said that product availability was most important to them when shopping in-store. If people walk into stores and see long queues, empty shelves, and a lack of staff to assist them, they may quickly switch to a competitor's store or back to shopping online.
While there may be a dearth of Christmas events in city centres this year, this does not necessarily mean that retailers need to suffer huge losses in sales. With many consumers still keen to visit the shops over the festive period, it's important that retailers offer a safe environment while ensuring a good level of inventory along with the appropriate staffing. That will be key in conversions and encouraging spend. Although there may be fewer people visiting overall, those who do go are shopping with purpose.

Contact us to learn more about Shopper Insights
Contact Us