Article
The Trends and Tech Driving the Future of Post-Pandemic Shopping for APAC Supermarkets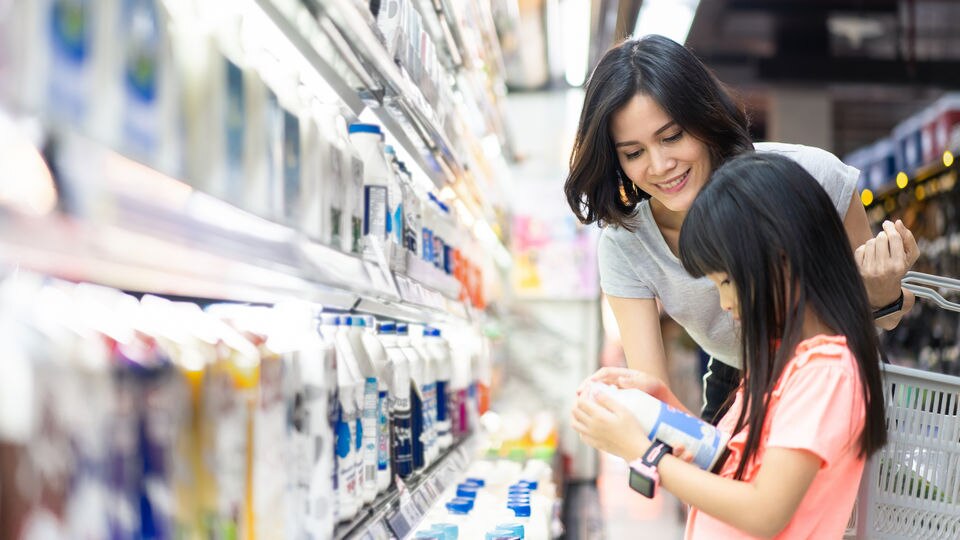 From a continued rise in e-commerce to a global health crisis driving pronounced changes in where and how often consumers shop for food, here are the challenges and opportunities influencing how APAC supermarkets future-proof their operations.
Home to some of the most innovative technologies shaping our everyday lives, the Asia-Pacific region has long been at the forefront of the digital world. So, with advanced digital infrastructure in place and a growing number of consumers already familiar with the conveniences of online shopping, APAC supermarkets were in an advantageous position to quickly move many of their services online after COVID-19 forced a wave of lockdowns across the region, months before similar measures were needed in other areas of the globe.
How are supermarkets responding to these and other trends right now? What are the strategies being put in place to meet customer demand and prepare their operations for the world of post-pandemic shopping?
What impact has the pandemic had on APAC supermarkets, and what lies ahead? We begin by getting a lay of the land.
Even before the pandemic, online grocery was ascendant
Well before the first case of COVID-19 was confirmed in December 2019, online grocery in the Asia-Pacific region had been developing at a rapid pace. A 2019 report from IGD Asia forecasted that sales in the region's top 12 markets would nearly triple — from $99 billion in sales to $295 billion — by 2023. Such growth was poised to make online the fastest-growing format in the region — four times the CAGR growth of the overall grocery retail market, and more than doubling its market share.
Taking a step back and looking at larger online trends, e-commerce in general was already growing faster in Asia than in any other region of the globe. Research from Bain & Company found that Asia accounted for two thirds of global e-commerce growth, and in China — the world's largest e-commerce market — 50% of all retail transactions were made online.
Against a backdrop of such rapid growth, brick-and-mortar companies were forming partnerships with online retailers to further diversify their offerings and develop innovative approaches to mobile shopping, delivery channels, and payment methods that would give customers a frictionless shopping experience online.
How did those new approaches manifest in a world of pandemic shopping, and what do they hold for the market moving forward?
Continued seismic growth for grocery e-commerce
First and foremost, online grocery is here to stay in the Asia-Pacific region. To understand why, let's look at the recent state of affairs in greater detail.
As more cities went into lockdown in the early months of 2020, the way people worked, lived, and shopped changed in immeasurable ways. A February 2021 survey conducted by GlobalData found that 72% of respondents were working from home during the first three months of 2021, and 32% had begun buying groceries online more often.
Zooming in a bit, that rise in online grocery shopping can also be attributed to the large lifestyle changes related to life under lockdown. With the majority of people forced to work from home, more consumers took an interest in cooking more meals in their own kitchens. And more than a year and a half later, this is increasingly becoming part of a permanent lifestyle given not only the tremendous convenience people enjoyed shopping online, but a host of other benefits for particularly savvy shoppers.
Case in point: GlobalData's report found that while the majority of APAC respondents said convenience (73%) and saving time (67%) were the primary drivers of online shopping, a sizable number of people also said they were turning to online channels to tap into lower prices (48%) and a greater variety and choice of products (47%). As long as online grocery shopping continues to make life easier while also saving consumers money, we can expect the e-commerce penetration rate to climb.
Asia accounts for two thirds of global e-commerce growth, and in China — the world's largest e-commerce market — 50% of all retail transactions were made online.
Shopper behaviours impacted by COVID-19
Now that we've looked at how APAC supermarkets are responding to the new challenges brought about by the pandemic, let's focus on the ways shopper behaviours have evolved — from changes in consumer lifestyle trends accelerated by the pandemic to new digital shopping platforms that look to become the norm through 2021 and beyond.
Health and well-being are top priorities when buying food.
Not only did more consumers become at-home chefs during the pandemic, but they also became more health-conscious. GlobalData's research found that health and well-being were among the most influential factors for APAC consumers, with 86% of respondents saying they are at least somewhat influenced by how a product impacts their health and well-being when making a purchasing decision.
Consumers will continue to shop local — but still expect convenience.
Against such large changes in consumer behaviour and mobility, it's not surprising that grocery retailers in Asia are shifting from hypermarkets and supermarkets to hyperlocal convenience stores that offer a wide range of services. In addition to lifestyle changes prompted by the pandemic, research from Euromonitor International found that this strategic shift is also the result of rapid urbanization across major markets like China and a gradual rise in smaller households. For an increasing number of consumers, grocery shopping means less buying in large quantities (think: everything a family needs for a week) and a higher frequency of in-store top-up trips to get items as they're needed.
Shoppers are increasingly turning to new digital platforms.
However, as APAC supermarkets continue to evolve their strategies in the coming years, one thing is for certain: Improved digital engagement with consumers is going to be critical for long-term business success. Shoppers across the region are already far more likely to make purchases on their smartphones, but that trend is expected to deepen, with Forrester estimating that online retail sales in Asia will reach $2 trillion by 2024, with as much as 85% of e-commerce transactions conducted on a smartphone. Compare that to the U.S. market, where only 43% of consumers are forecast to do the same.
But maintaining an omnichannel strategy will be increasingly difficult given the advent of new platforms consumers are using for their mobile shopping. From live-streamed video to new influencer platforms and official brand accounts on messaging apps like WeChat, grocery retailers across the Asia-Pacific region are going to have to keep an ear to the ground and see which channels to take advantage of — and for how long.
New customer preferences and behaviours call for new tech solutions
Increased demand for hyperlocal convenience stores. Renewed focus on health and wellness. Emerging e-commerce platforms entering the scene. Faced with all the changing customer behaviours we've discussed so far, how are APAC supermarkets responding?
As more and more companies are prioritizing digital transformation to achieve maximum efficiency and customer engagement, grocery retailers across the region are turning to new tech solutions. With a raft of innovative digital tools at play, retailers now hold the potential to create even greater personalized shopping experiences that meet their customers' behaviours and preferences and gain the data and insights they need to improve the customer experience across every touchpoint.
Bridging the online and offline experiences
Grocery retailers across the region are also showing they are digital savvy when it comes to bridging the gap between online and offline shopping experiences in a post-pandemic shopping world. The goal? To meet consumers' demand to feel safe at every stage of the shopping journey.
In China, the food-delivery app Meituan Waimai started using autonomous vehicles to deliver orders to customers in Beijing, and Foodpanda partnered with 7-Eleven stores in Singapore, Malaysia, Taiwan, and the Philippines to give shoppers the ability to order nearly 1,000 items that could be delivered in 20 minutes. And in Japan, supermarket chain Life partnered with Amazon to deliver groceries in as little as two hours, while Aeon now offers a drive-through service at 70 of its stores.
Managing food safety
With the advent of sensor-based tools such as refrigeration sensors and Bluetooth thermometers, supermarkets now have the ability to comprehensively monitor and manage every aspect of food safety across the product's journey. With these innovative cloud-based technologies in place, retailers can realize a host of key benefits: minimizing food waste, developing more sustainable operating practices, improving compliance, and more.
Strengthening theft prevention
Surprisingly, economic disruption brought about by COVID-19 did not lead to increased retail theft worldwide. In fact, the National Retail Federation (NRF) recently reported that, in a global survey of loss prevention leaders, the average shrink rate for retailers in fiscal year 2020 was just 1.6% — exactly the same as it was in 2019. However, 64% of retailers did say that organized retail crime is now a greater priority than it had been in the previous five years, and 53% said the same of internal theft. And since retail theft remained relatively the same during the pandemic year to the year prior, that indicates it is always occurring. Therefore, Electronic Article Surveillance (EAS) systems and sensors are tools for consideration beyond the pandemic.
With this in mind, new solutions are needed to combat shrink, not just in APAC, but worldwide.
Enhanced public view monitors (EPVMs) — eye-level deterrents that make shoppers aware they're being monitored as they move through the store — are a powerful tool for minimizing shrink, especially in high-theft departments or less-trafficked locations. EPVMs not only have a deterrence effect on shoppers, but also on internal staff. Also emerging on the market are a host of sensor-based solutions (ranging from bottle-cap tags to safers and wraps for small items) that can add another level of theft protection while also delivering insights into the root causes of shrink to help prevent losses before they even happen.
Forrester estimates that online retail sales in Asia will reach $2 trillion by 2024, with as much as 85% of e-commerce transactions conducted on a smartphone.
Looking ahead: What's next for APAC supermarkets?
The past 18 months have had a profound effect on how we live, work, and shop. And while supermarkets in the Asia-Pacific region have found new ways to bring a traditionally in-store experience online during a public health crisis, they've also discovered new opportunities to future-proof their businesses in an increasingly digital-first world.
Consumer behaviours will continue to evolve — as they always have and always will — but the unstoppable rise of e-commerce grocery and a greater emphasis on localized shopping is forcing supermarkets and hypermarkets to deal with new and growing competition in addition to the disruption faced across the grocery retail space. This competition will continue to put pressure on retailers to interpret evolving shopper behaviours and respond accordingly in terms of services and product mix and ranges, store layout, customer engagement, and use of technology to monitor and respond to customers.
For even more insights into how COVID-19 has impacted supermarkets across the Asia-Pacific region — including detailed breakdowns of new consumer behaviours and how grocery retailers are responding — check out our comprehensive Sensormatic Solutions Supermarket Report for APAC today.

Learn more about how Sensormatic IQ can revolutionise your approach to analytics.
Contact Us