Article
Unveiling the Reality of Retail Crime in the UK: Trends, Challenges, and Solutions
August 03, 2023
By
Sarah
French
by Sarah French, Associate Retail Analyst
Amid a cost-of-living crisis, high inflation and soaring food prices, incidents of shoplifting and retail crime have exploded. According to the British Retail Consortium (BRC), retail theft has grown to eight million incidents a year, with £953 million being lost to customer theft in the latest year alone. This isn't just a UK phenomenon; in the US National Retail Federation (NRF) revealed that organised retail crime (ORC) reached $94.5bn in 2021, with ORC being the primary driver of retail shrink.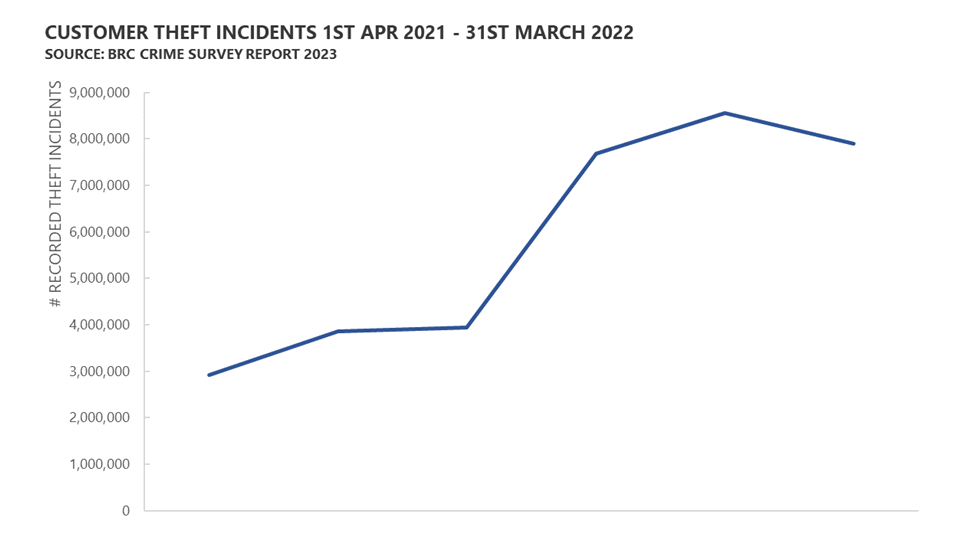 What's going on, and why?
As the cost-of-living crisis continues, prices for basic food items have soared. The UK is facing the worst inflation in 40 years, with Sainsbury's CEO Simon Roberts warning that pressure on household budgets "will only intensify over the remainder of the year." In turn, this has seen thefts of alcohol, meat and confectionary soaring to their highest rate in a decade, with the Association of Convenience Stores (ACS) reporting that higher value items are more likely to be stolen as they can later be sold on.
Whilst there are repeat offenders, store managers told The Grocer magazine last year that they are now seeing an increase in the number of "first-time shoplifters." This sentiment is echoed by Novara Media, which reported that shoplifting is now viewed as more "socially acceptable" with some turning to stealing amid the cost-of-living crisis. First-time shoplifters are also increasingly targeting self-checkouts, says Scanwatch, with CEO Saulius Kaukenas describing them as the "weakest link in retail security". This coincides with retailers such as Tesco who have significantly reduced the number of manned check-outs in favour of self-service options.
Concerns have also been raised that people are stealing in order to feed their families, with Tower Hamlets council reporting that Calpol was the most shoplifted item within the borough. Mayor Lutfur Rahman said that the report "shows how much the cost-of-living crisis is hurting our residents when they cannot afford basic medicines for their children." However, reports of people stealing to feed their children has been "strongly contested by many retailers," reports The Guardian, with many pointing the finger at ORC gangs. Some Co-op stores have resorted to putting baby formula behind the tills to prevent it from being stolen, with many citing this as proof of the increasingly desperate measures some parents are being driven to. Chris Noice from the Association of Convenience Stores argues however, that baby formula – along with other items such as coffee, meat, cheese, and alcohol - is actually targeted as it's a high value item that can be sold on. He adds that people are typically "stealing to fund their drug or alcohol habits, and ORC groups are often involved, too." Another retail expert suggests that baby formula is also being used to cut/bulk-out drugs before being sold, rejecting the argument that "decent people" are resorting to theft due to the cost-of-living crisis.
Additionally, The Times spoke to DIY-store owner Chris Abbott, who said large thefts are now a weekly occurrence (compared to every three to four weeks a couple of years ago). The NRF's latest research also found that ORC groups are "growing in both their scope and complexity," with 90% of 232 respondents to a flash poll saying that ORC is now more of a risk to their business than it was three years ago. This has been echoed by Waitrose, who says it has seen an increase in shoplifting incidents, "often by organised gangs." Speaking to the BBC, John Lewis Partnership's director of security, Lucy Brown, said "We're also seeing a rise in organised crime with groups targeting stores - they want to take high volumes and high value in one hit."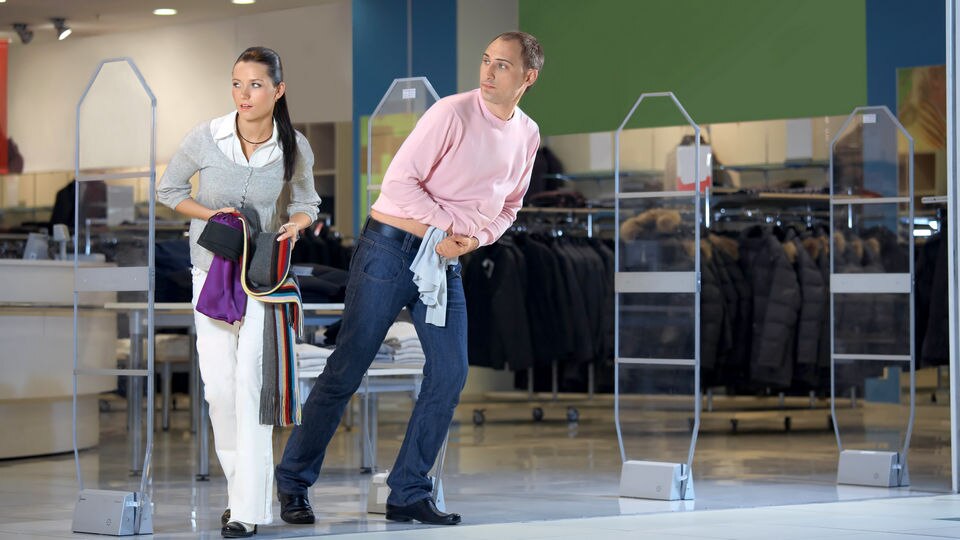 Why has ORC increased so much?
According to a retail crime report by the BRC (British Retail Consortium), 64% of retailers do not see the value in reporting thefts to the police, as they believe that no action will be taken. This perception is fuelled by the belief that certain police forces do not consider shoplifting to be a serious offense, particularly if the stolen goods are valued at less than £200. The BRC suggests that this perception is also prevalent among repeat offenders, who believe that even if they end up in court multiple times, the resulting sentences will be so lenient that they will have little impact. This sentiment is supported by Sharon White, the chairwoman of John Lewis, who has observed that shoplifters have become increasingly brazen. She has been repeatedly informed that "the police simply don't have the time or resources to respond to a shoplifting incident," which she believes encourages shoplifting and undermines the notion that it is a victimless crime.
In addition to this, The Guardian reports that shoplifting offences recorded by UK police have remained static over the past decade (around 300,000 a year) – a large disparity when compared to the 8 million incidents logged by retailers. The number of shoplifting prosecutions in England and Wales has seen a significant decline over the past decade, with a decrease of 73.5% in 2022 compared to the figures from a decade ago.
With there being little confidence in the police's ability to stop shoplifters, there is also a perception that store employees have little power to do anything either. The Times quotes a security guard as saying they have been reduced to "cardboard cut-outs" and are being frequently asked not to confront shoplifters over fears by retailers that they will be sued if either store staff or the suspect are injured. It has also been widely reported that Lululemon employees actually risk being fired if they try to stop thieves from stealing. CEO Calvin McDonald says this is because the retailer puts "safety … front and centre," and that cameras and other technology are utilised to help address theft.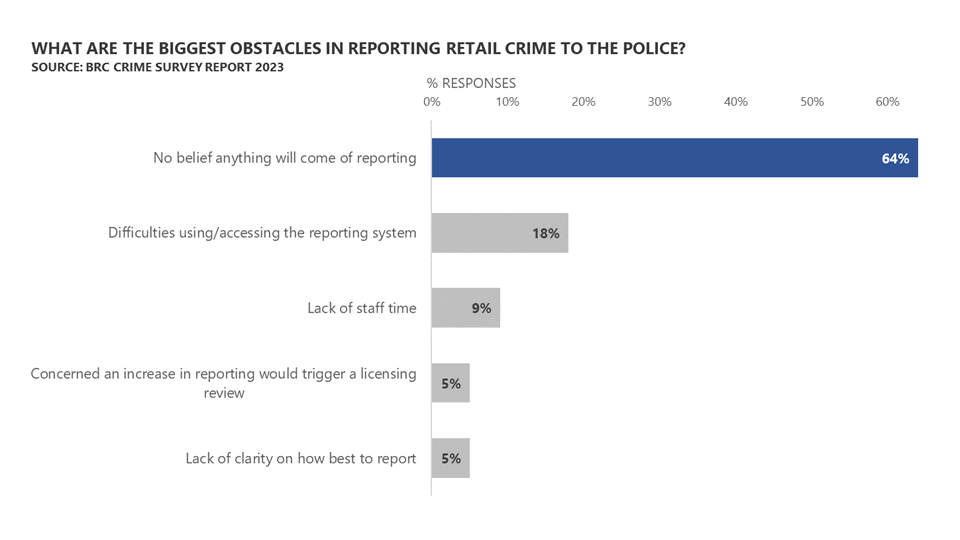 So, what are retailers doing to try and combat this?
Some supermarkets have taken to adding security tags to basic food items such as cheese and meat, whilst others have reduced the number of high-value products on the shelves. At some of its stores, M&S has limited the number of steaks on display, with the Co-op following suit for items such as jars of coffee. This has also been seen in the US, with Walgreens having renovated one of its Chicago stores and putting most of the products behind counters. There are now just two low-rise aisles with low-cost essentials, with the shelves being no taller than five feet so that staff can view customers shopping.
As self-checkouts become more prevalent, some shoplifters have become more daring. In response, several Sainsbury's and Morrisons branches have introduced receipt scanning before allowing customers to exit, which has received mixed reactions. PwC's retail strategy director, Kien Tan, expressed disapproval of this measure, stating that it "completely undermines the purpose of self-scan." However, Sainsbury's clarified that this technology is not new and is only being implemented in a limited number of stores.
Other retailers have gone to more extremes. Frasers Group has been criticised for employing live facial recognition cameras which "scan the face of every shopper and check them against a database of suspected shoplifters." Almost 50 MPs and peers have written to Frasers Group to condemn its use, describing the technology as "invasive and discriminatory." Speaking to the BBC however, Frasers has said that since installing the technology, the group had "seen a significant reduction in the number of criminal offences taking place in our stores", adding that it informs shoppers when the technology is being utilised in a store.
Taking the opposite approach, Waitrose is employing "love-bombing" to deter shoplifters, aiming to tackle theft by having store staff be "extra attentive, causing thieves to think twice." This follows the scheme being piloted in six-stores earlier this year; it has now been rolled out across all branches. Waitrose says this approach has been particularly effective at self-checkouts, where thieves would normally try to scan items as cheaper alternatives, or not scan them at all. Speaking to The Grocer, Waitrose's head of security, Nicki Juniper, said, "We've long been known for our friendly service, but it turns out that the more attentive we are, the less likely people are to steal."
Another tactic has been the use of private policing, which London businesses are "increasingly" turning to because they claim the Metropolitan police won't attend shoplifting incidents, reports the BBC. Some areas of London are now using the 'My Local Bobby' scheme, which for a fee, offers a warden service. Johnny Dyson of The Junction BID, who introduced two wardens from the scheme back in November, said "it's working brilliantly." He said that while some of the shoplifters are "still the same people a year on" they are less prolific, with the wardens being a "very big visible deterrent."
Retail crime is more than theft
Retailers are not only dealing with the challenge of shoplifting but also facing a significant increase in incidents of violence and abuse directed towards their workers. According to the BRC, these incidents have more than doubled since before the pandemic, where over 10% of workers have suffered some form of harassment. Research from the Institute of Customer Service suggests that the rise in hostility towards retail workers can be attributed, at least in part, to price increases. Approximately 33% of staff surveyed believe that higher levels of anxiety among shoppers are triggering this behaviour.
Speaking about the BRC's Crime Survey, Sussex Police and Crime commissioner, Katy Bourne, emphasised the need for businesses to report incidents and provide evidence. She added, "It's clear that we will only drive crime down by bridging some of the gaps that still remain in reporting processes, police response, criminal justice sanctions and a partnership approach to prevention."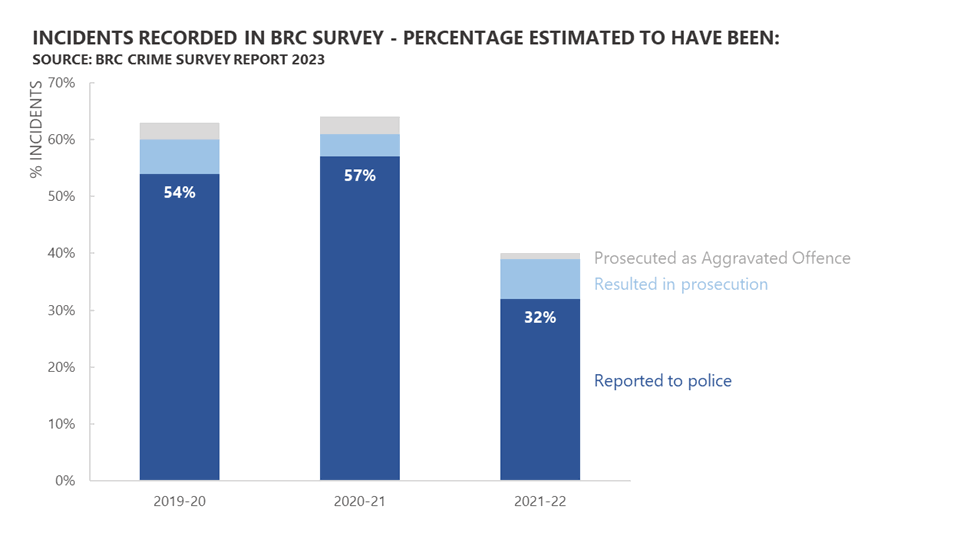 What else can retailers do to protect staff and inventory?
Obviously not all retailers can afford to employ private policing, nor they can they afford (or want to) employ the use of facial recognition. So, what can retailers actually do?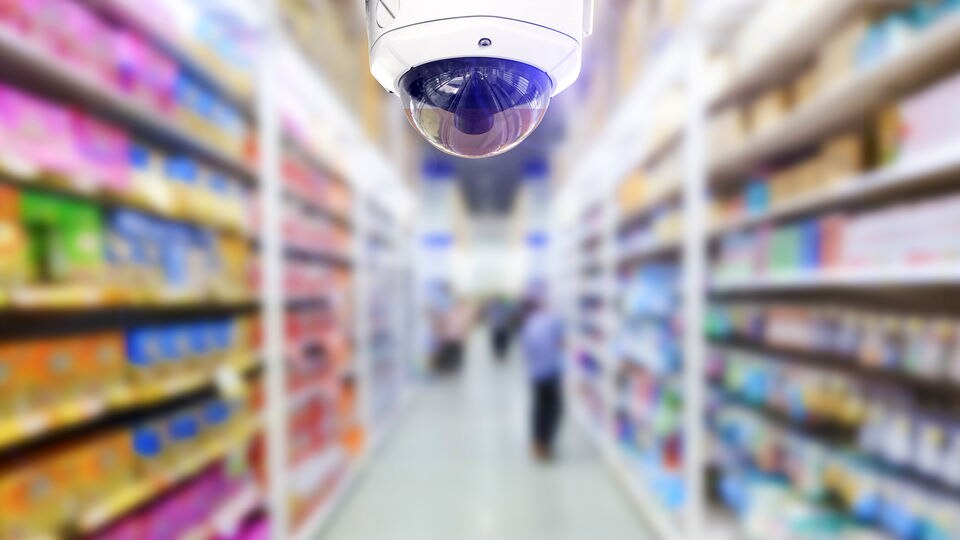 As the retail landscape and associated crime continue to evolve, it is crucial for loss prevention strategies to adapt accordingly. Retail has become increasingly seamless, with the introduction of self-checkouts and scan-as-you-shop options making the purchasing process more convenient. However, this convenience has also made it easier for individuals to engage in theft. Consequently, retailers find themselves engaged in a constant game of cat and mouse with thieves in order to safeguard their merchandise. If stores put higher value items out on display, they risk being stolen, but if they protect them and put them behind the counter, then retailers risk losing sales. Retailers need to be able to navigate this balance.
Retailers' utilisation of data is key. If retailers are limiting the amount of stock on display, then they need to be swiftly alerted when these items need to be restocked to avoid losing sales. Using inventory data can also help retailers determine which products are being targeted by thieves, and when these events are taking place. Data can also be used to optimise labour allocation, and determine the best times of day for different tasks to be carried out.
Going one step further, using video analytics can further empower retailers in their fight against shoplifters. Video analytics can alert retailers when shoplifting events are taking place, if customers are behaving aggressively, and if people are attempting to conceal products.
Speaking with Sensormatic, Corin Dennison of Adidas added, "While shrink is never going to go away, the utilisation and combination of different data sets can be used to help minimise losses and prevent some future shrink events from even happening. These kind of data projects require guided analysis and insightful application to be successful, but have the potential to saves millions in lost revenue."
Discover more about Sensormatic's Shrink Visibility and Video Intelligence solutions, or get in touch with the team to start the discussion.