Press Release
Black Friday shopper traffic up +35% week-on-week, but even early festive footfall fails to drive shopper numbers to pre-pandemic levels, down -23%
While Black Friday failed to drive shopper numbers to pre-pandemic levels, down -23% compared to 2019, shopper traffic jumped +35% week-on-week
Early Christmas shopping boosted Black Friday footfall, with consumers buying early to avoid supply chain disruption, shipping delays and price hikes
79% of shoppers had planned to start Christmas shopping before the beginning of December
A third (34%) planned to start buying Christmas gifts in November - +7 percentage points higher than in 2020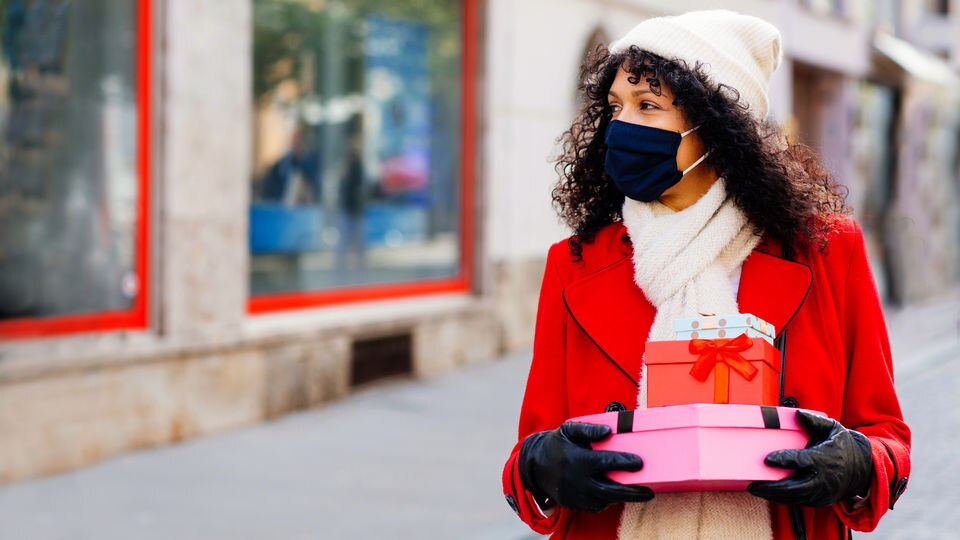 NEUHAUSEN, Switzerland—27 November, 2021—Early Christmas shopping boosts Black Friday footfall on the UK High Street, with shopper traffic up +35% week-on-week, according to Sensormatic Solutions, the leading global retail solutions portfolio of Johnson Controls.
Data from its footfall index, which captures over 40billion global shopper visits annually, showed that while Black Friday shopper traffic saw a +35% uplift week-on-week, even early festive footfall failed to drive shopper numbers to pre-pandemic levels, which remained down -23% compared to 2019.
Andy Sumpter, EMEA Retail Consultant at Sensormatic Solutions, commented: "Despite not reaching pre-pandemic levels, Christmas has started to come early for High Street retailers, who will be welcoming the Black Friday boost to trade that traditionally marks the start of the festive season. Over the past 12 months, we have seen a slow but steady resurgence of High Street shopping, as consumer confidence has grown and demand for in-person shopping has risen."
Black Friday footfall was bolstered by an early surge in Christmas shopping, with consumers choosing to buy early in a bid to avoid supply chain disruption, out-of-stocks and shipping delays to festive gifts. Original research of over 1,000 UK shoppers in Sensormatic's UK Retail: Shopper Sentiment Report showed 79% had planned to start Christmas shopping before the beginning of December, with a third (34%) starting gift buying in November, up +7 percentage points compared to 2020.
And, with the CBI warning consumers face the biggest price hikes in 30 years alongside growing price sensitivity among UK consumers – 57% of consumers are more price sensitive now compared to before the pandemic, according to Pricer's data - shoppers hit the High Street to make the most of the deals during the discounting event yesterday.
"Retailers will be hoping that initial Black Friday success doesn't turn into a 'blue Monday' and that demand can be sustained into December, their most crucial trading period," Andy Sumpter, continued. "That relies on smoothing out bumps in supply chains to reduce shelf-gaps, so consumers can be confident the items they want will be available when they shop, as well as leveraging click-and-collect capabilities in-store to ease the burden on the digital fulfilment network when demand rises."
Bricks-and-mortar shopping on Black Friday has had mixed performance in the UK over the last 5 years, as consumer and retailers' adoption of the event – with leading retailers such as M&S and Next bowing out of the event in recent years – has shifted, along with the ongoing online migration of the discounting event. After dipping to -3% YoY in 2018, in-store footfall on Black Friday bounced back to +9% YoY in 2019, before plummeting to -79% YoY in 2020 as the national covid-19 lockdown shuttered stores and the event went 100% digital as shops remained shut.
To learn more about UK shopper trends, download Sensormatic's UK Retail: Shopper Sentiment Report.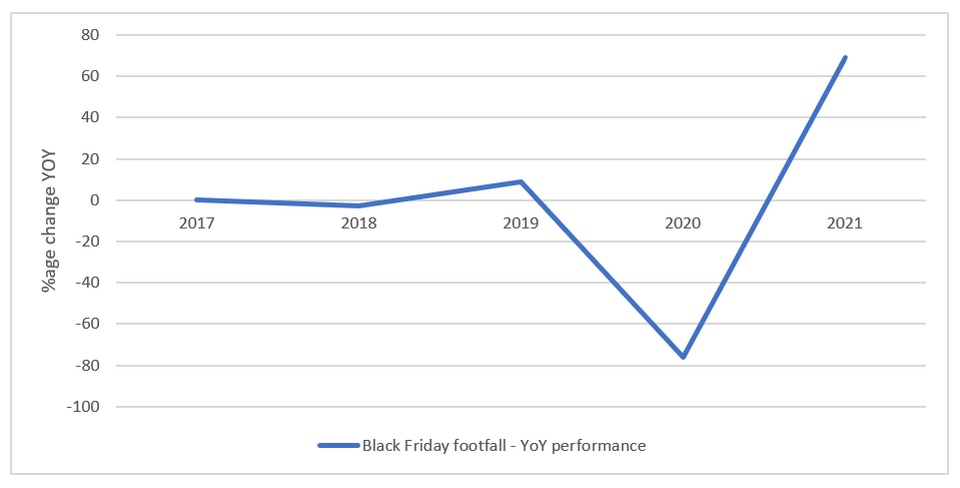 Survey Methodology: Original research of 1,000 UK adult shoppers, conducted by Savanta on behalf of Sensormatic Solutions in October, 2021.
About Johnson Controls
At Johnson Controls (NYSE:JCI) we transform the environments where people live, work, learn and play. As the global leader in smart, healthy and sustainable buildings, our mission is to reimagine the performance of buildings to serve people, places and the planet.
With a history of more than 135 years of innovation, Johnson Controls delivers the blueprint of the future for industries such as healthcare, schools, data centers, airports, stadiums, manufacturing and beyond through its comprehensive digital offering OpenBlue. With a global team of 100,000 experts in more than 150 countries, Johnson Controls offers the world's largest portfolio of building technology, software as well as service solutions with some of the most trusted names in the industry. For more information, visit www.johnsoncontrols.com or follow us @johnsoncontrols on Twitter.
About Sensormatic Solutions
Sensormatic Solutions is the leading global retail solutions portfolio of Johnson Controls powering operational excellence at scale and enabling smart and connected shopper engagement. Our intelligent digital operating platform – Sensormatic IQ – combines the full Sensormatic Solutions portfolio, including third-party data to deliver unmatched insights into shopper experience, inventory intelligence, loss prevention and operational effectiveness with advanced technologies, like AI and Machine Learning. This enables retailers to act on prescriptive and predictive data-driven outcomes to confidently move into the future. Please visit Sensormatic Solutions or follow us on LinkedIn, Twitter, and our YouTube channel.
###
© 2021 Johnson Controls. All Rights Reserved. SENSORMATIC, SHOPPERTRAK, TRUEVUE and the product names listed above are trademarks and/or registered trademarks. Unauthorized use is strictly prohibited.

Learn more about how Sensormatic IQ can revolutionise your approach to analytics.
Contact Us