Press Release
Sensormatic Solutions by Johnson Controls survey shows a resurgence in bricks-and-mortar Christmas shopping – but price, stock levels and safety remain top considerations
72% of UK consumers plan to conduct their Christmas shopping in-store this year, up +18 percentage points year-on-year (YoY)
A further 70% will shop online, but the increase represents a lift of +8 percentage points compared to 2020
Price, stock availability and safety remain top considerations for those choosing to shop in-store
Compulsory facemasks, extended opening hours to reduce crowding and occupancy limits would make UK shoppers more comfortable shopping in-store during peak trading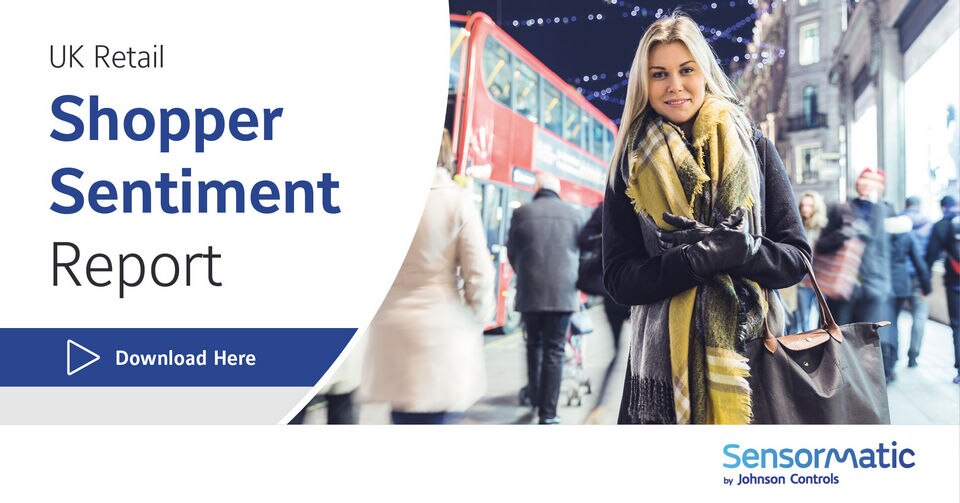 NEUHAUSEN, Switzerland—9 November, 2021—Sensormatic Solutions, the leading global retail solutions portfolio of Johnson Controls, released its UK Retail: Shopper Sentiment Report, which found more consumers are planning to do their Christmas shopping in-store compared to 2020, despite the digital acceleration of ecommerce and lingering concerns around bricks-and-mortar shopping as the UK's COVID-19 infections continue to rise.
Original research of 1,000 UK shoppers in the report showed almost three quarters (72%) of consumers plan to shop in-store during peak trading this year, up + 18 percentage points compared to 2020, pointing to growing confidence – and rekindled demand – amongst consumers for bricks-and-mortar shopping. A further 70% will shop online, but this increase only represents an +8 percentage point uplift year-on-year (YoY).
Despite ongoing fears about the COVID-19 pandemic prompting half (51%) of consumers to remain concerned about shopping in-store during Black Friday and in the run up to Christmas, 47% say they don't intend to change their shopping frequency in-store when buying Christmas gifts, while a further 45% said they would make fewer but more purposeful visits to store.
Demand for click-and-collect is also set to rise during peak trading 2021, with +17 percentage points more UK shoppers vowing to use the service when Christmas shopping compared to last year, underscoring the continued importance for retailers to implement forward-looking, data-centric technologies that enable precision retail that can help predict consumer behaviours.
"We expect more contactless checkouts and unified commerce services like click-and-collect, this Christmas because health and safety is still paramount," said Andy Sumpter, EMEA Retail Consultant at Sensormatic Solutions. "That means during this year's peak trading period it's more important than ever for retailers to adopt intelligent technology that allows them to leverage data from across the enterprise to meet consumers' expectation of personalised, comfortable, seamless retail experiences - both in-store and online."
Pricing, stock levels and covid safety protocols are top of mind for Christmas shoppers in-store
However, while demand for IRL (in real life) shopping experiences is set to rise over the festive period, the effects of the pandemic are stilling impact shoppers' buying behaviours; price, stock availability and safety were the top three considerations for customers shopping in-store.
Price once again was the key factor when choosing to buy in-store for 65% UK shoppers – this constitutes a rise of +17 percentage points compared to 2020, indicating growing price sensitivity amidst the backdrop of the UK's post-pandemic economic recovery. And, with HGV driver shortages prompted both by the fallout of the pandemic and Brexit, stock availability was the top concern for 53%, who wanted to feel assured there wouldn't be shelf gaps or out-of-stocks in-store when buying Christmas gifts.
Meanwhile, the issue of in-store safety hasn't gone away; over a third (35%) said in-store COVID-19 protocols were a top consideration when visiting shops during peak trading. However, the compulsory use of face masks in-store - regardless of national guidance - would make 34% more comfortable shopping in-store, followed by extended opening hours to prevent overcrowding (33%) and store occupancy levels limiting the numbers of shoppers allowed in-store at any one time to prevent overcrowding (28%).
Sensormatic Solutions and its intelligent operating platform for retail, Sensormatic IQ, is a vital component of Johnson Controls OpenBlue technologies and innovations which promotes healthy people, healthy places and healthy planet. Sensormatic Solutions is helping retailers solve complex challenges related to consumer confidence, health and safety as part of its mission.
To learn more about UK shopper trends, download Sensormatic's its UK Retail: Shopper Sentiment Report.
Survey Methodology: Original research of 1,000 UK adult shoppers, conducted by Savanta on behalf of Sensormatic Solutions in October, 2021.
About Johnson Controls
At Johnson Controls (NYSE:JCI) we transform the environments where people live, work, learn and play. As the global leader in smart, healthy and sustainable buildings, our mission is to reimagine the performance of buildings to serve people, places and the planet.
With a history of more than 135 years of innovation, Johnson Controls delivers the blueprint of the future for industries such as healthcare, schools, data centers, airports, stadiums, manufacturing and beyond through its comprehensive digital offering OpenBlue. With a global team of 100,000 experts in more than 150 countries, Johnson Controls offers the world's largest portfolio of building technology, software as well as service solutions with some of the most trusted names in the industry. For more information, visit www.johnsoncontrols.com or follow us @johnsoncontrols on Twitter.
About Sensormatic Solutions
Sensormatic Solutions is the leading global retail solutions portfolio of Johnson Controls powering operational excellence at scale and enabling smart and connected shopper engagement. Our intelligent digital operating platform – Sensormatic IQ – combines the full Sensormatic Solutions portfolio, including third-party data to deliver unmatched insights into shopper experience, inventory intelligence, loss prevention and operational effectiveness with advanced technologies, like AI and Machine Learning. This enables retailers to act on prescriptive and predictive data-driven outcomes to confidently move into the future. Please visit Sensormatic Solutions or follow us on LinkedIn, Twitter, and our YouTube channel.
###
© 2021 Johnson Controls. All Rights Reserved. SENSORMATIC, SHOPPERTRAK, TRUEVUE and the product names listed above are trademarks and/or registered trademarks. Unauthorized use is strictly prohibited.

Learn more about how Sensormatic IQ can revolutionise your approach to analytics.
Contact Us