Article
Why the Solution to Retail's Labor Crisis isn't What You Think
March 28, 2022
By
Brian
Field
As retailers reel from the Great Resignation, a smarter and more profitable solution to today's talent woes is easily within reach.
By now, you've probably read at least a dozen articles about how the Great Resignation is affecting retailers. Most of them cite the same causes — workers are burned out by unpredictable schedules and stressed-out and difficult customers — while offering little in the way of solutions.
This is not one of those articles.
In this article, I'm going to break down why it's time for retailers to rethink their approach to labor allocation and what they can do to maximize profitability, improve their customer experiences, and, ultimately, retain more of their associates.
Why the traditional model no longer works
If you've ever planned labor for a retail location, you've probably done so by focusing on the metric "sales per hour" (SPH), which is exactly what it sounds like. It's almost certainly how you were taught to plan labor, and it's a tried-and-true method that's been used for decades.
Unfortunately, it's also incredibly ineffective and damaging to both productivity and profitability. Why?
I'll give you four reasons.
It saves on cost — to the detriment of profitability
First, the entire SPH model is, as the old saying goes, "penny wise and pound foolish." That's because it's based on containing cost, not on maximizing profitability — essentially deeming associates as a necessary evil to be deployed as spartanly as possible. According to the SPH method, the right number of associates in a given store at a given time is always as few as possible with the goal of simply keeping the store running.
But what isn't captured in this method is that all associates, whether focused on operational tasks or customer engagement, drive revenue through their behaviors. While there is a cost to hiring, training, and facilitating those behaviors, there's also a return on that investment that helps to drive the profitability of each store.
For example, a retail operator wouldn't cut back (or even eliminate) lighting in a store because it's necessary to enhance the customer's experience and, thus, helps to close more sales. Associates are a similar asset to the store. And while in-store lighting is at a constant level, additional thought should be given to scheduling associates for the purpose of delivering great customer experiences at peak shopping times and during high-traffic events like big holiday sales or long-anticipated product launches. And speaking of the customer experience…
Customers aren't an afterthought — they're not thought of at all
To say there's no customer-centricity in the sales-per-hour equation is an understatement. In fact, the customer isn't present in the equation at all. It doesn't account for when customers arrived, how long they stayed, or even how effective the customer service was.
Consider a store that generates its lowest revenues on Tuesdays, for example. If the determining factor is SPH, it will mean that a skeleton crew will be staffed on Tuesdays, and customers who come in to shop that day will likely find it almost impossible to get personal attention from an associate when they need it, or replenishment might not happen consistently, and shoppers may not be able to find what they planned to purchase. In this scenario, no thought is given to how much shopper traffic the store might experience, so no investment is considered to build on revenue opportunities.
SPH is inaccurate and easily gamed
It's also incredibly easy to cheat. If, say, a location is under pressure to increase its SPH, it merely has to shave some hours here and there — voila, SPH has magically gone up. The problem is, it's not giving you a real indication of the performance of the store at all. And oh, by the way, where's the shopper in all of that? Nothing about traffic, implied or explicit, is included in the metric.
SPH leads directly to staff turnover
Wonder why the number of resignations in retail is at an all-time high — and still climbing? Or why 48% of retail workers have contemplated quitting in the last 12 months? One reason is that many of them have to juggle multiple jobs and unpredictable shifts, largely due to the fact that retailers give them as few hours and as few shifts as possible. This, in turn, leads to lack of loyalty to their employers, and manifests as a lack of engagement at work. As a result, associates quickly reach the point of feeling burned out, overloaded, and unsupported by their employers.
The "retail death spiral" explained
Taken together, these issues ultimately lead to what I call "the retail death spiral," a confluence of factors resulting in poor customer experiences, poor store performance, and poor employee retention.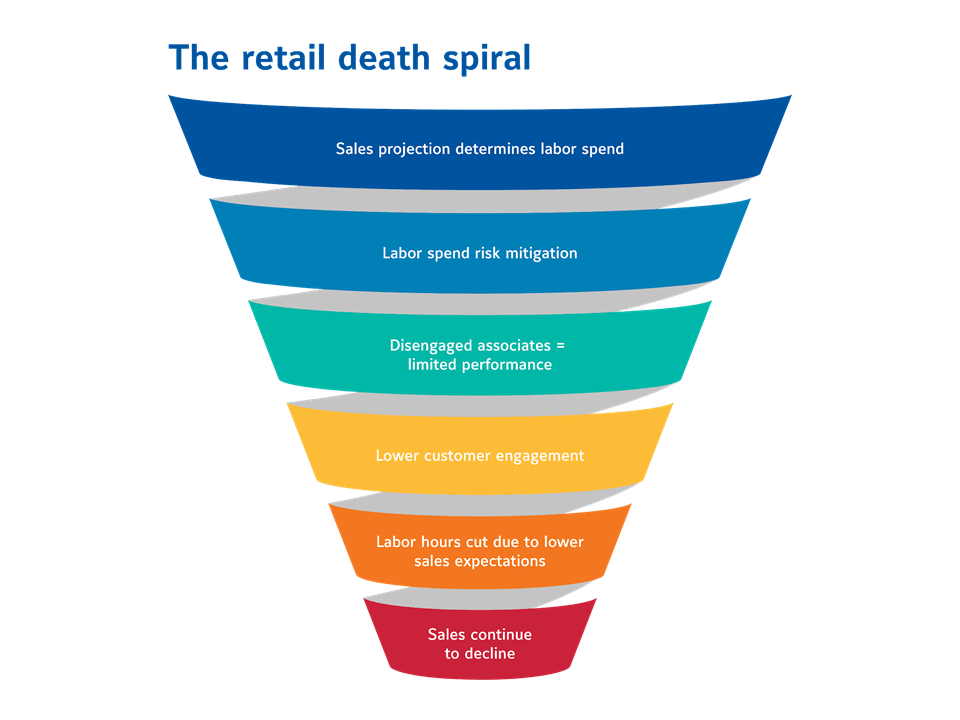 Imagine the sales performance for a store that uses the SPH model is expected to be $20,000 for a given week. The manager plans labor hours accordingly, but also rolls back that number ever so slightly, because — again — the ultimate goal is cost containment. Because this manager is forced to give so few hours to his or her associates, the associates have little commitment to their roles, and their attention is divided between the multiple jobs they hold as a result. This divided attention leads to poor performance and lower customer engagement. Lackluster sales are the result.
Of course, you could simply rinse and repeat until you've got an empty storefront, but there's a much better approach.
A smarter solution backed by data
Once retailers make the paradigm shift and are ready to schedule the right number of associates for profitability (instead of the fewest for cost), they'll need one more thing to do so: data. With the right data, retailers can staff not only to each individual store's traffic peaks and valleys, but even the departments within the store, as well.
Thanks to our proven methodology and data, that's precisely what retailers are doing. And what we've seen is it leads to better customer service, increased store performance, and happier, more engaged associates.
Step 1. Understand your true traffic patterns
With the right traffic solution, retailers get detailed, actionable insights on their shopper behavior — everything from when shoppers arrive to when they leave, and even where each shopper's journey takes them within the store.
The best of these provides a comprehensive picture of shopper journeys and customer behaviors through video analytics and more. They help you understand what's happening inside a given retail space. This level of visibility reveals traffic analytics that enable retailers to not only staff smarter, but quickly find and react to the kind of behaviors and opportunities that drive sales and profitability.
Step 2. Use modern, smarter metrics
Consider this: Here we sit in the 2020s, rebounding from a pandemic with forward-facing retail technologies so sophisticated they would have seemed unfathomable even a decade ago, and yet some retailers are still using a staffing model developed back at the turn of the century. But they don't have to — there's a better, more profitable, way. Instead of SPH, many retailers are now pivoting to two more accurate — but no more complex — metrics: sales per shopper (SPS) and shopper to associate ratio (STAR).
SPS: A measurement of shopper conversion rates multiplied by basket size. In simplest terms, year-over-year SPS distills traffic and sales comp review down to one metric. Either the store is doing everything it can to maximize the value of shopper traffic, or it is not. The higher this dollar value is, the better.
STAR: This looks at average traffic count divided by labor hours to determine a given store's service level. In other words, a store that receives 4,668 visitors a week using 333 labor hours would have a STAR rating of 14.0. The lower this metric is, the more optimal the service level.
Both of these metrics enable retailers to understand not just store performance, but the effectiveness of service. For more insights, check out this article in which I break down exactly how a store with lower foot traffic, lower weekly sales performance, and a lower average transaction size can actually outperform one with higher values in each of these categories. One note about comparisons: Context is everything, so SPS and STAR results should be assessed relative to similar sectors and stores with similar circumstances.
Step 3. Staff to traffic — not to sales
Once you've gained a deeper understanding of your traffic patterns and have pivoted to using smarter, more comprehensive metrics, it's time to tap into their synergy by scheduling your associates based on traffic, not sales.
In practice, this simply means ensuring that more associates are on the clock at peak traffic times. And yes, while this may mean an incremental increase in total hours throughout the week, it also means a consistently lower STAR across all your shifts, which routinely corresponds to higher conversion rates and basket sizes, higher SPS, and greater profit dollars across the board.
For the associates themselves, this moderate increase in hours means more income as well as more stability, which is the recipe for higher levels of engagement, together with lower levels of turnover, down the line.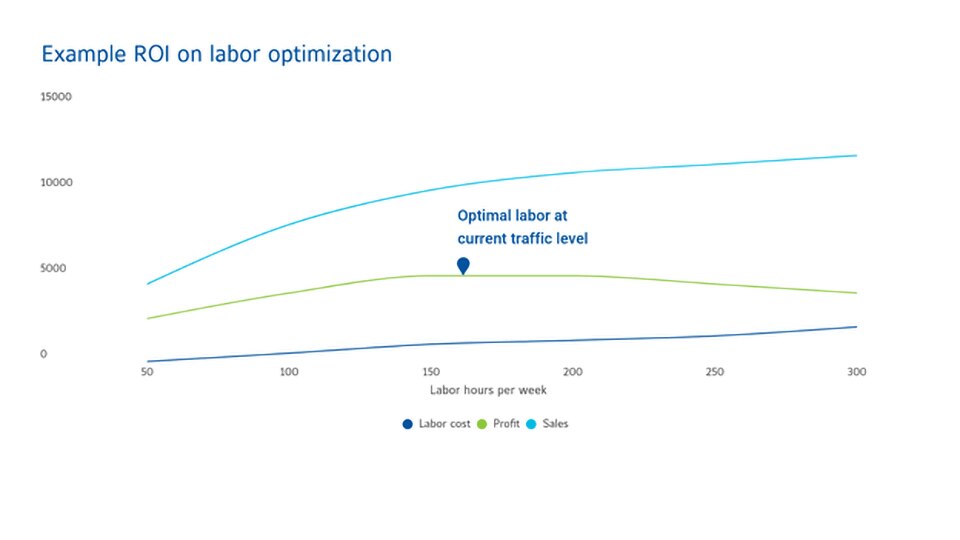 Takeaways: A rising tide lifts all boats
Ready to scratch the never-ending cycle of burnout and turnover, which inevitably leaves you scrambling to hire and onboard new associates? Retailers can avoid this "death spiral" by making data-driven decisions when it comes to staffing their stores.
But to do that, they'll need to carefully consider:
rethinking their approach to measuring store performance
implementing a solution that can deliver meaningful insights on their traffic
abandoning the traditional "skeleton crew" approach to staffing
While there may be modest costs incurred by following this model, those costs are more than offset by the potential payoffs. Not only will retailers almost certainly see a boost to their bottom lines, but they'll also get associates who are happier, more engaged, and less likely to leave. In today's frenzied hiring landscape, that's one benefit retailers can hardly afford to ignore.
Want to learn more? Get in Touch!
About Brian Field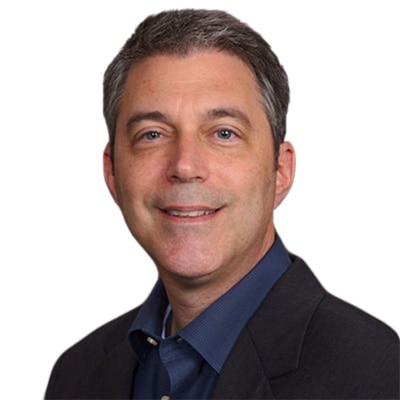 Brian Field oversees the Global Retail Consulting Practice as senior director at Sensormatic Solutions. He provides retailers with insights that drive revenue while controlling the bottom line. Prior to joining Sensormatic Solutions, Brian spent the better part of four decades working directly in retail. His experience includes strategic planning and analysis, direction of store finance and store operations, store systems integration and project management, store sales and management, training design and merchandising. Brian's retail sector experience includes Specialty Apparel, Consumer Electronics and Housewares for companies as diverse as Chico's FAS, Circuit City, and Macy's.

Learn more about how Sensormatic IQ can revolutionize your approach to analytics.
Contact Us